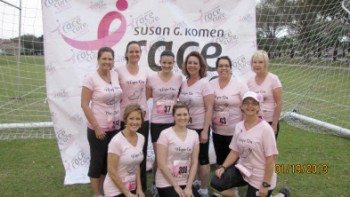 Front Row: Gail Allen, Lisa Shellhorn, Kathy Cargal Back Row: Angi Griffin, Telecia Flowers, Alyssa Haaker, Cathy Branch, Yolanda Heipp, Jan Crosetti Not shown: Lauren Kiley and Darla Stahl
The Peterson & Myers Hope on the Run team participated in the second annual Susan G. Komen Florida Suncoast Polk Race for the Cure on January 19, 2013 at the Tiger Town stadium in Lakeland. Two members of the team, Gail Allen and Kathy Cargal, are breast cancer survivors. The group raised over $1,100 for the cause.
Taking part in the 5k event were team members Gail Allen, Cathy Branch, Jan Crosetti, Telecia Flowers, Angi Griffin, Alyssa Haaker, Lauren Kiley, Lisa Shellhorn and Darla Stahl. Running in the 10k race were Kathy Cargal and Yolanda Heipp. Kathy placed 3rd in her class in the race.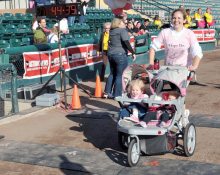 Team member Lauren Kiley crossing the
finish line with daughters Madeline and Amelia
The Susan G. Komen for the Cure promise: to save lives and end breast cancer forever by empowering people, ensuring quality of care for all and energizing science to find the cures. For more information about Susan G. Komen for the Cure, breast health or breast cancer, visit the Susan G. Komen website.