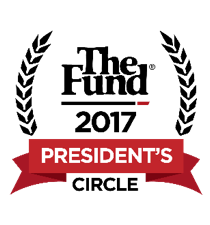 The Fund announced that Peterson & Myers, P.A. has been named a Member of The Fund's President's Circle for 2017.
These firms stand out by having a healthy practice and honoring The Fund with a large share of their business.
"The title of President's Circle is awarded to the top 100 of our member firms.  With this achievement, Peterson & Myers has shown their loyalty and dedication to both The Fund and their clients," said Jimmy R. Jones, The Fund's CEO.
It is the support and loyalty of these members that allows The Fund to continue to serve the 2,500 member firms across the state of Florida.
About The Fund:
Attorneys' Title Fund Services, LLC (The Fund) supports and promotes the success of attorneys' real estate practices by providing expert underwriting counsel, the best legal education, valuable title information, and innovative products and services in keeping with The Fund's mission to preserve and facilitate the real estate practices of its members in their protection of the public. "Always Driven" is The Fund's commitment to creating innovative products and services that allow attorneys to conduct transactions easily and efficiently. For more information, visit http://www.thefund.com.