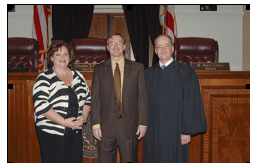 Stephen R. Senn, attended a ceremony in Tallahassee on January 27, 2011 to be recognized as a recipient of The Florida Bar President's Pro Bono Service Award. Along with other nominees from Florida's 20 Judicial Circuits, Attorney Senn was considered for the highest statewide pro bono award bestowed by the Chief Justice of The Florida Supreme Court.
Mr. Senn is a shareholder at Peterson & Myers, P.A. in Lakeland. His principal areas of practice are appellate, labor and employment law, contract litigation, commercial litigation, legal malpractice, trial and trial advocacy. He has been a member of The Florida Bar since December 1989, and is board certified in appellate practice. He is also a member of The Florida Bar's Appellate Practice, Labor and Employment Law, and Public Interest Law sections.
Senn has a long history of pro bono involvement. His primary method of participation is through his affiliation with Florida Rural Legal Services Inc. He has served on its board of directors since 1998, and presently serves as president of that board. In addition, he's on the board of directors and is president of the Florida Equal Justice Center and Pro Bono Committee for the Tenth Circuit, contributing approximately 80 hours of service to each of these organizations.
Mr. Senn's pro bono cases have been diverse. He handled an appeal of a summary judgment in a foreclosure action against a retired senior citizen who was a victim of mortgage broker fraud. The U.S. Court of Appeals of the Eleventh Circuit affirmed the summary judgment, and Senn has contributed more than 270 hours of representation thus far. Another case involved an amicus brief arguing that "best interest of child" standard in adoption proceedings is a constitutional mandate. Florida's Third District Court of Appeal affirmed this judgment and Senn will continue representation through an anticipated Florida Supreme Court appeal, even after already contributing nearly 250 pro bono hours. In another case, he represented a blind state prisoner in a mandamus petition regarding whether state courts must accept legal filings in Braille, an ongoing petition that he has contributed nearly 20 pro bono hours to date.
Representing youth and the disadvantaged is also important to Mr. Senn. He was Attorney ad Litem for a child in a shelter proceeding; represented the homeless coalition in an employment dispute; took on a case for a group home for boys in crisis from a discrimination suit by a former employee; and defended tax court proceedings for an unemployed woman who had been wrongly attributed income as a result of identity theft.
Mr. Senn received his Juris Doctor degree from the Florida State University College of Law, with high honors. He also earned his Bachelor of Science degree from FSU.